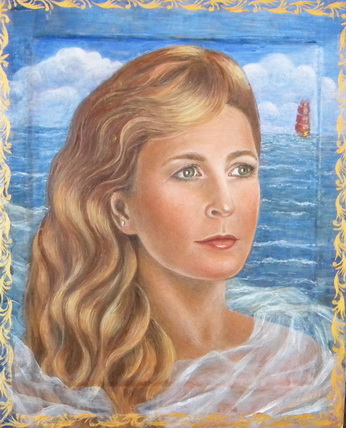 Self portrait
Egg-Tempera
Alyona Firth is a Russian born artist. She lived and studied Fine Art internationally in Pakistan, Cuba, Spain, Nicaragua and the United States (Florida Atlantic University). She has her studio in Florida , teaching painting and drawing. She is a member of the Boca Raton Museum of Art, Boca Artists' Guild, and the Naples Art Association.
She has won awards in local and international competition and sold to private collectors. Her work has been recently exhibited at:
Center for Contemporary Art, Texas

Ann Smith Gallery, Texas

The Fort Lauderdale City Hall

The Inverrary Resort, Fort Lauderdale

The Von Liebig Art Center, Naples, Florida

Olympic Heights high school

The Yamato Business Plaza, Boca Raton, Florida

Naples Art gallery, Florida

Armory Arts Center, Palm Beach, Florida

Fort Lauderdale Yacht Club
Resent publications: New York Optimist Magazine
Coastal Life, Naples, Florida.
Alyona's goal is to bring awareness to nature's hidden beauty. Her work encompasses such traditional art forms as painting, drawing and photography along with innovative mixed media and digital art. Her diverse cultural experiences, studies, and travels have inspired her to create unique works that blend her concepts, techniques, and personal style. You can find this work under "Natural world gallery" series - a truly fantastic view of art and life…
The site also includes Digital Fine Art and Design, Photography, Oils and Drawings Gallery and Glass collection.
.Click below...
Come Inside and Browse the Gallery
Contact Alyona at
for details and pricing
VISIT https://www.saatchiart.com/all?query=alyona+firth
(c) Copyright 2000-2017